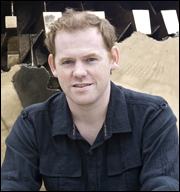 I am a Lecturer in Human Computer Interaction at the University of Bristol. While I'm primarily an HCI researcher, my work tends to have a strong inter-disciplinary focus. My recent research has two broad themes:
Designing, developing and evaluating healthcare technologies, in particular technologies to support mental health and emotional wellbeing.
Exploring how new experimental techniques, for example techniques borrowed from neuroscience research, can provide an understanding of experiences with technologies.
News:
| | |
| --- | --- |
| April 2013: | Our CHI 2013 paper on environmental crowdsourcing received a Best Paper Honorable Mention. |
| Dec 2012: | GHOST, our EU FET-Open proposal on organic shape changing interfaces, has received funding. |
| Dec 2012: | Added details of Close the Doors, a pro-environmental crowdsourcing project. |
| Nov 2012: | Great news! Our proposal for a RepliCHI workshop at CHI 2013 has been accepted. Details here. |
| Sept 2012: | Posted call for papers for a special issue of IJHCS on Designing for Mental Health and Emotional Wellbeing. |
| July 2012: | Visited Vienna and gave a talk at the IGW Summer school. |
| May 2012: | Our paper on agency has received a Best Paper Honourable Mention at CHI 2012. |
Prospective PhD Students:
I am looking for PhD students who are passionate about designing new interactive technologies that can help to address high impact social and economic challenges. If you are interested, please contact me to discuss potential projects and funding possibilities.
Teaching:
COMSM0106 Mobile and Ubiquitous Computing
COMS30500 Third Year Individual Projects
Sample projects:
The Experience of Agency: This is an ongoing project in which I am applying implicit metrics – derived from recent research in Cognitive Neuroscience – to explore peoples' experience of personal agency when interacting with new technologies, such as on-body interactions and intelligent interfaces. Details here.
gNats Island is a computer game that implements key aspects of Cognitive Behavioural Therapy (CBT). It is intended for use with adolescents experiencing a range of difficulties, including depression and anxiety, and is designed to fully integrate with a six session, manualised, face-to-face intervention. Details here.
Acknowledgements:
My research, past and present, would not be possible without the generous support of funding bodies, including: EU FP7 Marie Curie Actions and Open-FET, the EPSRC, the MRC, IRCSET Inspire Fellowships, Enterprise Ireland, Higher Education Authority of Ireland PhD fellowships.