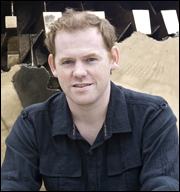 I am a Lecturer in Human Computer Interaction at the University of Bristol. While I'm primarily an HCI researcher, my work tends to have a strong inter-disciplinary focus. My current research has two broad themes:
Designing and evaluating healthcare technologies, in particular technologies to support mental health and emotional wellbeing.
Exploring how new experimental techniques, for example techniques borrowed from neuroscience research, can provide an understanding of experiences with technologies.
News:
| | |
| --- | --- |
| Aug 2013: | CSCW 2014 paper on behavioural norm theories and crowdsourcing accepted! |
| Aug 2013: | Funding awarded by SBRI for mental health games project, building on gNats Island. |
| Aug 2013: | gNats Island discussed in MIT Technology Review. |
| May 2013: | The SPHERE Interdisciplinary Research Collaboration has received £12 million in EPSRC funding. I will lead the User-Centred Design activities on the project. |
| May 2013: | £23 million Integrative Epidemiology Unit funded by MRC. I will lead the digital Data Capture theme within the new Unit. |
| April 2013: | Our CHI 2013 paper on environmental crowdsourcing has received a Best Paper Honorable Mention. |
| Dec 2012: | GHOST, our EU FET-Open proposal on organic shape changing interfaces, has received funding. |
| Dec 2012: | Added details of Close the Doors, a pro-environmental crowdsourcing project. |
Prospective PhD Students:
I am looking for PhD students who are passionate about designing new interactive technologies that help to address important social and economic challenges. If you are interested in undertaking a PhD with the Bristol Interaction and Graphics group, please contact me to discuss projects and funding possibilities.
Teaching:
COMSM0009 Interactive Devices
COMSM0106 Mobile and Ubiquitous Computing
COMS21301 Human Computer Interaction
COMS30500 Third Year Individual Projects
Sample projects:
Close the Door explores ways in which mobile crowdsourcing can be used to support pro-environmental behaviour change. In contrast to previous HCI research on pro-environmental technology, much of which is focused on individual behaviour change, this project focuses on the design of systems to target groups and communities. Details here.
The Experience of Agency: This is an ongoing project in which I am applying implicit metrics – derived from recent research in Cognitive Neuroscience – to explore peoples' experience of personal agency when interacting with new technologies, such as on-body interactions and intelligent interfaces. Details here.
gNats Island is a computer game that implements key aspects of Cognitive Behavioural Therapy (CBT). It is intended for use with adolescents experiencing a range of difficulties, including depression and anxiety, and is designed to fully integrate with a six session, manualised, face-to-face intervention. Details here.