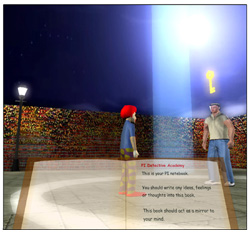 Personal Investigator (PI) is a 3D computer game which incorporates a goal-oriented, strengths based mental health intervention model called Solution Focused Therapy (SFT). PI represents the first time this established intervention approach was integrated into a 3D game. The game was developed as a proof of concept to evaluate the potential of computer games in adolescent mental health care.
Impact: the Personal Investigator project won a 2004 O2 Digital Media Award in the Digital Innovation category.
Publications:
Coyle, D., & Doherty, G. (2009). Clinical evaluations and collaborative design: developing new technologies for mental healthcare interventions. ACM CHI'09, pp.2051-2060. (pdf)
Coyle, D., Doherty, G., & Sharry, J. (2009). An Evaluation of a Solution Focused Computer Game in Adolescent Interventions. Clinical Child Psychology and Psychiatry. 14(3) pp345-360 (pdf)
Using PI in clinical sessions: PI is designed to be used in clinical sessions. In clinical sessions the therapist and adolescent sit together at a computer, but the adolescent has full control over the game; they play at their own pace and choose their own path through the world. Throughout the game the therapist is a partner in the exploration of the game world. Dialogues with game characters help to create a context for more detailed conversations between therapists and their clients.
Evaluation: A pilot clinical evaluation of PI was conducted in which 8 therapists used the game with 22 adolescents. Initial results indicate that playing PI in sessions can be helpful in engaging adolescents. It can increase the amount of dialogue between therapists and adolescents, help structure sessions and help in setting therapeutic goals. The use of 3D had an empowering effect, allowing the adolescent more control over the pacing and direction of the therapeutic process. Both therapists and adolescents found the game very easy to use and therapists felt it integrated well with traditional approaches. For further details of the therapeutic evaluation of PI see (Coyle, et al., 2009).