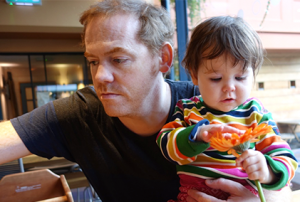 I am a Lecturer in Computer Science at University College Dublin. Whilst primarily a Human Computer Interaction researcher, my work has a strong interdisciplinary focus. My overall goal is to design and develop computer systems that help to address important societal challenges, in particular healthcare and environmental sustainability. My current research has several broad themes:
Health technologies:

I have projects investigating the use of online support, games and mobile devices in mental health interventions. While at the University of Bristol I led the user-centred design activities in two large health technology projects, SPHERE and the IEU.

The Experience of Agency:

I have an ongoing interest in applying implicit metrics – derived from recent research in Cognitive and Clinical Neuroscience – to explore peoples' experience of agency when interacting with new technologies, including intelligent, on-body and sensing interfaces.

Crowdsourcing and information visualisation:

Other projects are investigating crowdsourcing and visualisation to support environmental activism and maritime navigation.
My research page provides further detail of ongoing research projects.
News:
| | |
| --- | --- |
| Mar 2015: | Paper on wireless charging for on-body sensors accepted for Pervasive Health 2015 |
| Feb 2015: | As part of my UCD move I have also joined the Insight Centre for Data Analtyics. |
| Jan 2015: | I have joined the School of Computer Science and Informatics at University College Dublin. |
| Jan 2015: | Paper on the experience of agency in speech interfaces accepted for CHI 2015. |
| Dec 2014: | Workshop on Developing Skills for Social and Emotional Wellbeing accepted to ACM CHI 2015 |
| Aug 2014: | Paper on the experience of agency accepted for publication in Frontiers of Human Neuroscience. |
| Aug 2014: | Hannah Limerick has given presentations on agency in speech interfaces at ASSC 18 and ICON 2014. |
| July 2014: | Pesky gNATs featured in NIHR Horizon Scanning Centre report. |
| Jun 2014: | IJHCS special issue on emotional wellbeing published. |
| May 2014: | UKHO project started. Will develop new interaction and visualisation techniques for maritime navigation. |
| Mar 2014: | Handaxe Limited has won funding to continue the development of Pesky gNATs. |
| More… | |
Current teaching:

COMP40630 Human Computer Interaction

Past teaching: (University of Bristol)
COMSM0009 Interactive Devices
COMS21301 Human Computer Interaction
COMS30500 Third Year Individual Projects

Prospective PhD Students:

I enjoy working with people who are passionate about interactive technologies and want to address important social, economic and intellectual challenges. If you are interested in pursuing a PhD at University College Dublin please contact me to discuss projects and funding possibilities.
Recent projects:
The Experience of Agency
This is an ongoing project in which we are applying implicit metrics – derived from recent research in Cognitive Neuroscience – to explore and map peoples' experience of personal agency when interacting with new technologies, such as on-body interactions and intelligent interfaces.
[CHI 2012] [CHI 2015]
Crowdsourcing and community activism
Close the Door explored ways in which mobile crowdsourcing can be used to support pro-environmental community activists groups. In contrast to previous HCI research on pro-environmental technology, much of which is focused on individual behaviour change, this project offered new insights on the design of systems that target groups and communities.
[CHI 2013] [CSCW 2014]
Program Committees
ACM CHI 2015 Associate Chair, Understanding People sub-committee.
ACM CHI 2011, 2012 and 2014 Work in Progress papers committee.
ACM CHI 2014 Student Competition.
CBMS 2014 and 2015.
OzCHI 2014.
ACM International Workshop on Mobile Systems for Computational Social Science 2012 and 2013
Computer Based Medical Systems special tracks 2011, 2012 and 2013
Irish HCI 2010 and 2011
Organised/co-organised

Workshop on Designing for Social and Emotional Wellbeing at ACM CHI 2015
RepliCHI the Workshop at ACM CHI 2013
Workshop on Interaction Design and Emotional Wellbeing at ACM CHI 2012
Designing Wellbeing at ACM DIS 2012
People Computers and Psychotherapy at British HCI 2012

Editorial service

Guest editor: special issue of the International Journal of Human Computer Studies on 'Designing for Mental Health and Emotional Wellbeing' (published July 2014).
Editorial board: Behaviour and IT special issue on Medical Teamwork, Collaboration and Patient-Centred Care.