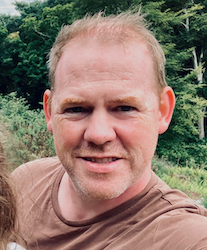 I am an Associate Professor in Human Computer Interaction with the School of Computer Science at University College Dublin and founding member of the HCI@UCD group. HCI@UCD is an interdisciplinary research group bringing together designers, computer scientists, social and cognitive scientists. We have core research interests in areas including digital health technology, conversational user interfaces, user autonomy, and ethical aspects of design for HCI. We publish regularly in leading journals and conferences, including ACM CHI, and seek to develop technologies that have positive impact on society.
My current research is focused in two main areas:
Digital Health Technologies:

I am the Project Coordinator of the EU funded TEAM ITN, a PhD training network in digital mental health. Alongside this I have projects investigating online help-seeking, games and mobile devices, and blended CBT to prevent and treat mental health difficulties. Outside of the mental health space, the group have active projects designing technology to support rehabilitation for cancer and cardiovascular disease.

User Agency and Autonomy:

I have a long standing interest in applying implicit metrics – derived from recent research in Cognitive and Clinical Neuroscience – to explore peoples' experience of agency when interacting with new technologies, including intelligent, on-body and sensing interfaces. More recently this focus has broadened to address questions of user autonomy in diverse contexts.
My research page provides further detail of ongoing research projects.
Vacancies:

I am currently recruiting for two positions, a post-doctoral research fellowship focused on user autonomy and a PhD position in digital mental health. For details and to apply please see the vacancies page.

Prospective PhD Students:

I enjoy working with people who are passionate about interactive technologies and want to address important social, economic and intellectual challenges. If you are interested in pursuing a PhD at University College Dublin please contact me to discuss projects and funding possibilities.
Sample projects:
TEAM
TEAM is a 4 year Innovation Training Network (ITN), funded by the EU Horizon 2020 programme under the Marie Skłodowska-Curie actions. I coordinate the overall network, which focuses on developing new technologies to support the assessment, prevention and treatment of mental health difficulties in young people.
Searching for Mental Health
Seeking help is an important step in addressing mental health difficulties. This project is exploring and provides guidelines for the design on online help-seeking tools. Evidence suggests that positive help-seeking experiences contribute to an increased likelihood of future help-seeking and improved outcomes.
[CHI 2020] [JMIR 2019] [JMIR Mental Health 2019]
Current funding:
Project Coordinator & Principal Investigator: TEAM ITN, EU H2020 Marie Skłodowska-Curie Actions (2016-21)
Funded Investigator: Insight Centre for Data Analytics, Science Foundation Ireland (2014-24).
Funded Investigator: ADAPT Centre for AI Driven Digital Content Technology, Science Foundation Ireland (2021-26).
Co-investigator: ECME, EU INTERREG VA Programme (2017-21)
Past funding:
Co-investigator: CATCH ITN, EU H2020 Marie Skłodowska-Curie Actions (2016-21)
Co-investigator: SPHERE Sensor Platform for Healthcare in Residential Environment. EPSRC, EP/K031910/1 (2013-17).
Principle investigator: Integrated support for adolescent mental health, NHS Health Enterprise East (2014-15).
Co-investigator: Integrative Epidemiology Unit. MRC (2013-17).
Principal-investigator: UK Hydrographic Office Knowledge Transfer Partnership (2013-15).
Co-investigator: GHOST: generic, highly-organic shape-changing interfaces. EU FET-Open (2013-15).
Principle investigator: Games supporting adolescent mental health, NHS Health Enterprise East (2013-14).
Co-investigator: Digital Green Doors, EPSRC Research in the Wild, EP/K012509/1 (2013-14).
Personal Fellowship: Marie Curie Post-doc Fellowship. EU FP7 and IRCSET Inspire (2009-12).